Do we have more pay for play or pay for favors? a little long but a good in depth story that hasn't been in the media. This looks to be part of the "Obama and Hillary "Globalization" of this Country which does not favor the American people. So when Obama says its good, we must ask for who?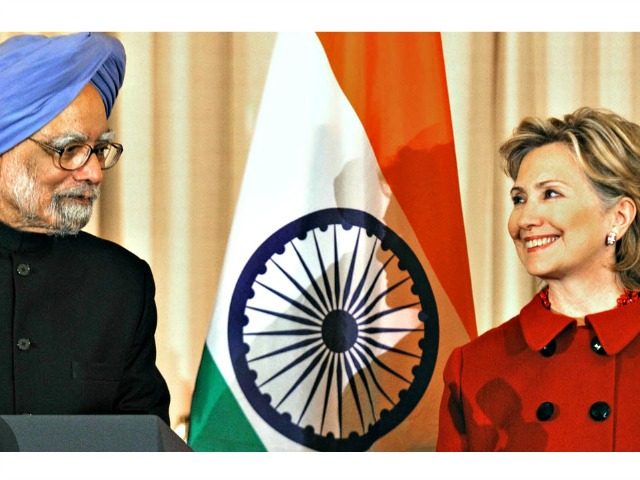 Hillary Clinton co-founded the Senate India Caucus, which anti-offshoring advocates say champions "issues important to India, including outsourcing and H-1B and L-1 visas."
Clinton in 2005: "I am delighted to be the Senator from Punjab as well as from New York."

Clinton has called for nearly doubling the controversial H-1B guest worker program—suggesting that American workers lack the skills to fill American jobs. She has also defended the cheap labor practices of an Indian outsourcing firm, to which the Clinton Foundation has financial ties: "We are not against all outsourcing; we are not in favor of putting up fences," she said.

Shortly after the CEO of HCL—the Indian firm that helped lay off 250 American Disney workers in Orlando— called American tech graduates "unemployable", Bill Clinton delivered a speech to HCL to the tune of nearly a quarter of a million dollars at Disney World in Orlando.

Reports note that Clinton has repeatedly "telegraphed" her support for a globalized world to the Indian community. At a conference of 14,000 Indian Americans, Bill Clinton extolled the virtues of "open borders, easy travel, easy immigration".

In 2007, Barack Obama slammed "Hillary Clinton (D-Punjab)'s personal, financial and political ties to India… It's all about the money," his campaign wrote.
The Clintons have reaped significant financial rewards from their relationship with the Indian community, both in their personal finances and Hillary's campaign fundraising. Hillary Clinton, who is the co-chair of the Senate India Caucus, has drawn criticism from anti-offshoring groups for her vocal support of Indian business and unwillingness to protect American jobs… Hillary Clinton has taken tens of thousands [of dollars] from companies that outsource jobs to India. Workers who have been laid off in upstate New York might not think that her recent joke that she could be elected to the Senate seat in Punjab is that funny.
Although foreign nationals cannot contribute to U.S. campaigns, Clinton has won campaign support from the Indian American community, records show… Tata Consultancy Services contributed between $25,000 and $50,000 to the Clinton Foundation, and Ratan Tata, then chairman of the Tata Group, was a speaker at the Clinton Global Initiative conference in 2010.
I could not remain silent… I reached out to elected office-holders across the country, including Hillary Clinton, who had been elected Senator from New York in 2000. Shortly after I reached out to Senator Clinton's office, I saw that she attended the grand opening of a Tata regional office in Buffalo, New York… If Hillary Clinton truly was heartbroken about Americans being forced to train their foreign replacements, she had ample opportunity to do something about it when she was in office. I for one have good reason not to trust that she will do the right thing if elected [president].
These guest workers are imported by Tata because they are cheaper than American workers. Over the ten-year period FY2005-14, Tata imported an incredible 27,193 H-1B guest workers. We don't know how many L-1 workers it imported but it's likely more than 10,000. That's at least 27,193 jobs that American workers should have been hired for or in many cases were already doing (workers at Siemens, Northeast Utilities, and Southern California Edison) and got replaced by an H-1B worker. Those are high wage jobs that pay more than $85k to American workers… Why would anyone court a company whose business model is based upon destroying American jobs? It's the height of irrationality to think that destroying American jobs is effective economic development policy… By giving Tata her repeated endorsements she enabled these very practices.
Mr. Nayar, speaking before an audience of business partners in New York City, blasted American tech grads as 'unemployable'. He elaborated that he views American tech grads as inferior to those from India, China, and Brazil as the Americans only want to 'get rich' and dream up 'the next big thing. He says students from countries like India, China, and Brazil are more willing to put the effort into 'boring' details of tech process and methodology… Mr. Nayar also complains about the cost of training Americans. He says that most Americans are simply 'too expensive' to train.
They know that they are being sold out. And they feel as though they are contributing to the death of the American tech workforce by training their replacements, but they've been forced to do it in order to get their severance pay, which they need so that they can pay their mortgage, and feed their families. Workers tell me that they feel physically sick as they're forced to train their replacements. They go home and vomit; they cry every single night; they go into counseling; they're admitted to hospitals; there are divorces; we've seen two suicides as a result of these cheap labor practices. And when the workers are officially let go and can't find work, that kind of emotional distress drives a lot of them to homelessness, a lot of them move in with their older parents. It has single-handedly destroyed American families by the thousands.
Clinton is successfully wooing wealthy Indian Americans, many of them business leaders with close ties to their native country and an interest in protecting outsourcing laws and expanding access to worker visas. Her campaign has held three fundraisers in the Indian American community recently, one of which raised close to $3 million, its sponsor told an Indian news organization… Her campaign continues to telegraph — sometimes in front of Indian American audiences — that she sees benefits to a globalized world. Three weeks ago, her husband drew applause at a conference of 14,000 Indian Americans in Washington as he extolled the benefits of "open borders, easy travel, easy immigration." He said the outsourcing debate bothered him because it failed to acknowledge the contributions of Indians who settled in the U.S. The same day, he headlined a fundraiser at the conference for his wife's campaign.