So I wonder if the Secret Service is giving this Douche Bag a visit over her public threats. If someone threatened Obama like that again that would be front page all over the Country
I also don't remember hearing Trump mention anything about taking away women's rights. Thats a Liberal talking point.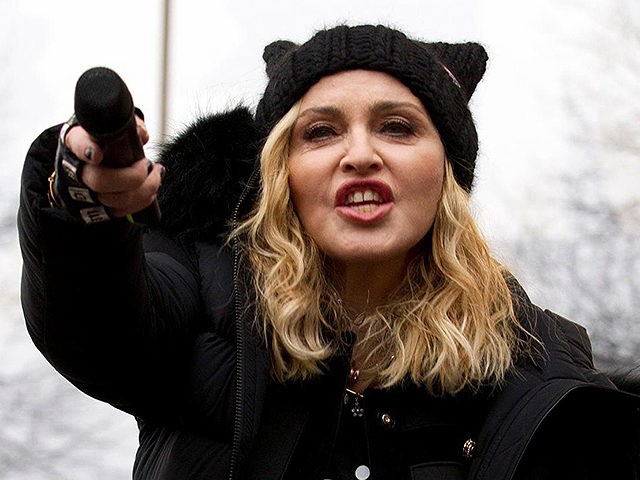 Madonna railed against the Trump administration Saturday at the Women's March on Washington and confessed during her profanity-laced speech that's she's been thinking about "blowing up the White House."
"Yes, I'm angry. Yes, I'm outraged. Yes, I have thought an awful lot about blowing up the White House, but I know that this won't change anything," Madonna told the crowd to roaring applause.
Are you ready to shake up the world?" Madonna asked the crowd. "Welcome to the revolution of love, to the rebellion, to out refusal as women to accept this new age of tyranny, where not just women are in danger but all regionalized people. Where being uniquely different, right now, might truly be considered a crime."
"It took this horrific moment of darkness to wake us the fuck up." she said.
The pop mega-star performed two of her biggest songs "Express Yourself" and "Human Nature." During the latter, Madonna changed the song's lyric to say "Donald Trump—suck a dick." She also led the crowd of anti-Trump revelers in a chant: "I'm not your bitch."
Madonna also sent a vulgar message to her and protester's "detractors."
"And to our detractors that insist that this march will never add up to anything, fuck you! Fuck You!" she said.
http://www.breitbart.com/live/womens-march-washington-live-updates/madonna-drops-f-bombs-anti-trump-rally-ive-thought-lot-blowing-white-house/
This DipShit has aslo lost it
http://www.breitbart.com/live/womens-march-washington-live-updates/michael-moore-anti-trump-rally-vow-end-trump-carnage/
The link below explains the actions above
Anti-Trump Marchers 'Mostly White' Women Who Need 'Therapy' After Clinton Loss
http://www.breitbart.com/big-government/2017/01/21/womens-anti-trump-marchers-mostly-white-need-therapy-clinton-loss/
www.breitbart.com/live/womens-march-washington-live-updates/anti-trump-women-marchers-threaten-never-leave-washington-dc/